Description
Jolly Classroom
The magic of Jolly Phonics at your fingertips on the interactive whiteboard!
Jolly Classroom is available as an annual subscription per school and costs €355.00 inclusive of vat. That is just €1 per day for Jolly Classroom across all classes, learning support and special ed. classrooms, supporting the key mission of everyone, to teach children to successfully read and write.
FREE 30-Day Trial: simply email [email protected], request FREE Trial and we will email you back a PDF VOUCHER containing your FREE access code which will enable you to use all features of Jolly Classroom for 30 days. Thereafter, you will better know if you want to purchase it, which you can do within the software at the end of the trial period, if you so wish.
Introduction
Discover Jolly Classroom, a brand-new digital platform designed for teaching Jolly Phonics in the classroom! With a fresh and vibrant new look, Jolly Classroom provides all the tools teachers need to deliver fun and engaging lessons, easily and effectively. Explore the new home of Inky, Bee and Snake today and discover a whole new way of teaching!
Comprehensive
A full and extensive year's programme –
More than 150 interactive lessons and dozens of exciting activities
A selection of fun worksheets for every lesson
Aligned with the Jolly Phonics Handbook and Pupil and Teacher's Books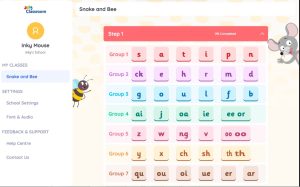 Easy-to-use
Instructions and guidance for every step of the way
Perfect for beginners and experienced teachers
Lesson plans and teaching notes included with every lesson
Audio for letter sounds, songs, and stories

Fun
Enjoyable lessons designed to engage your students
Interactive and exciting activities for whole-class teaching
Multi-sensory animations for formation, blending, and segmenting
Games and songs to support learning
Accessible
Fully web-based with easy access
 Simple and straightforward setup process
Ability to create multiple, personalised staff/classroom profiles
Switch between print or precursive and British or American English
Trusted by teachers, loved by children
"Jolly Phonics is a fantastic way to teach phonics to children. Phonics should be fun and engaging and Jolly Phonics most definitely supports this. The children in our school love singing the songs and doing the actions!"
Lucy Davies / Teacher, Rush Green Primary School
The Programme
Jolly Classroom is split into 3 main steps, covering all the 42 letter sounds, alternative spellings, and tricky words, as well as activities for reading and handwriting practice. Each step provides progressive daily sessions, as well as practical advice and tips that the teachers can use in their class.
Step 1 – Introduce the 42 letter sounds
Step 1 focuses on the five key skills of Jolly Phonics to teach reading and writing: Learning the letter sounds, learning letter formation, blending, segmenting, and tricky words.
Step 2 – Build on the initial teaching
Step 2 builds on the teaching in Step 1 following a similar format of daily revision and consolidation, along with extension topics for the week. The main alternative vowel spellings, capital letters and alphabet, new tricky words and guided writing activities are all introduced.
Step 3 – Consolidate the teaching
Step 3 aims to consolidate the learning of Steps 1 and 2 by introducing new alternative letter-sound spelling patterns and tricky words, as well as long and short vowels, and a variety of reading comprehension activities.